After a Year of Staying Inside, There Is No Better Way to Make Up for Lost Time Than to Stop by This Festive Annual Event to Visit Neighbors, Both New and Old.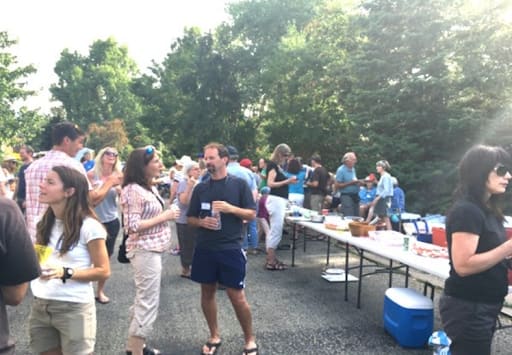 Is there any better way to bid farewell to the end of summertime than throwing a massive party with all of your friends? If you are fervently shaking your head, then you'll be thrilled to know that Boulder residents living in or nearby
Lower Chautauqua
are invited to an end-of-summer bash! Attending the Lower Chautauqua Block Party is a fantastic way to enjoy one last taste of summer by socializing with both old and new friends. After a year of staying home, don't miss your chance to meet your neighbors and have lots of family fun at this thrilling local event. Keep reading to find out all the details you need to know about Lower Chautauqua and the background behind this family-friendly function.
All About Lower Chautauqua
Named the
#1 Happiest City
in the US in 2017 by Gallup,
Boulder, Colorado
is known for its amiable residents. With its incredible job market, young professionals and families are flocking to the area to take advantage of the
huge number of start-ups
founded and continue to operate here. Add in the fact that Boulder has some of the most favorable weather in America with over
300 days of sunshine
per year, there is no question why Boulder's population is growing at an incredible rate. Furthermore, having been named "
America's Foodiest Town
" in 2010 by Bon Appetit Magazine, the city is host to dozens of
top-notch eateries
available to Boulder residents.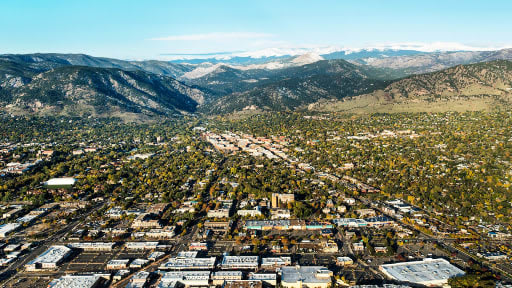 Credit: Inc. Magazine
With all of these incredible reasons to call Boulder home, there is no better place to live in the Boulder area than Lower Chautauqua. Known for its proximity to the historic Chautauqua neighborhood with its famed
Chautauqua Park
, Lower Chautauqua residents enjoy the conveniences of downtown amenities with a spacious, park-like feel to the community. Also located in Chautauqua Park is the
Chautauqua Auditorium
that hosts live music in the summer months that is enjoyed by all. The Lower Chautauqua neighborhood ranges from 9th Street to the west and 20th Street (and
New Vista High School
) to the east, and from Baseline Road to the south and Aurora Avenue to the north. Several years ago, a few innovative residents of Lower Chautauqua decided that hosting a block party would be an excellent way to meet and socialize with all of the neighbors that share this beautiful neighborhood in Boulder.
Why a Block Party?
Out of all the ways to get out of the house and meet your neighbors, you might be wondering why a block party was chosen as the ideal way to get Lower Chautauqua residents out and about. With many Americans
increasingly reliant on social media
to keep them connected to their fellow Americans rather than socializing in person, block parties are a fantastic way to give people the face time they need. Also, people new to the area may be struggling to find ways to connect with their neighbors, especially with the restraints that the pandemic has put on all of us. In fact, after being stuck inside and told to avoid crowds for over a year, it is in our nature as humans to crave relationships with the people that live around us. A block party is a perfect excuse to get out and mingle with all of your neighbors while enjoying food, drinks, and fun summertime activities.
About the Event
As previously mentioned, the idea for a block party was conceptualized in 2014 by a group of Lower Chautauqua residents who thought this would be a great way to meet and visit with some of their neighbors. The newly formed committee decided to use the
NextDoor
app and the Lower Chautauqua email list to get the word out. Since then, the Lower Chautauqua Summer Block party has been held at the end of the summer. This year's event will take place on Sunday, August 29, 2021, 2-5 pm. You'll know the party is coming up by watching for friendly reminders in the form of email notifications, posters on utility poles, or flyers placed on front doors in the neighborhood. Should you want to volunteer or donate to the event please contact Portia Husted at
portia.husted@compass.com
or
303.868.3558
.
In the past the
City of Boulder
has graciously offered a Block Party Truck to supply the event with picnic benches, toys, coolers, chairs, roadblock signage, trash bins, and more. This year, however, it is unavailable so we will need your help - if you have items you are willing to share for our event this year please contact Portia Husted at
portia.husted@compass.com
. The party organizers typically order all of the necessary paper goods like compostable plates, cups, and utensils and make a point to sort all discarded items into compost, recyclables, and trash when the party's over. All of the invitees will be assigned a food item like an appetizer or drink based on your last name's first letter. On the day of the party, all of the contributions will be enjoyed by all at a delicious potluck dinner.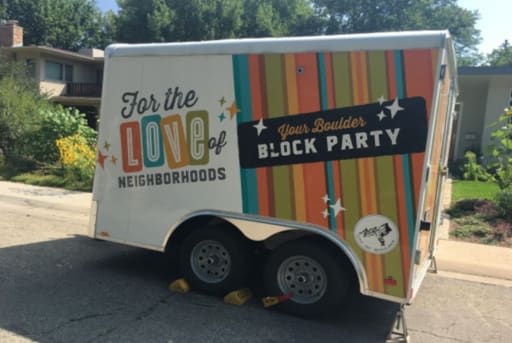 Activities for Kids
The Lower Chautauqua Summer Block Party organizers have implemented many ideas for entertaining children at this event.
The Boulder Fire Department
always makes a point to stop by with their flashy red fire engine for the kids to admire.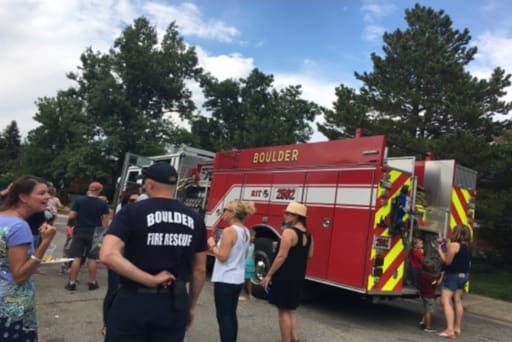 Children will also be delighted when the ice cream truck rolls in, ready to dole out some sweet treats. Another beloved activity for the kids is face painting, where children can wear the likeness of their favorite animal or cartoon character. If these exciting amenities aren't reason enough to stop by, then playing corn hole, drawing with sidewalk chalk, and participating in other yard games will be sure to please your young ones. What better way for your children to soak up the last bit of summer than to have a blast at the block party with all of their neighborhood friends?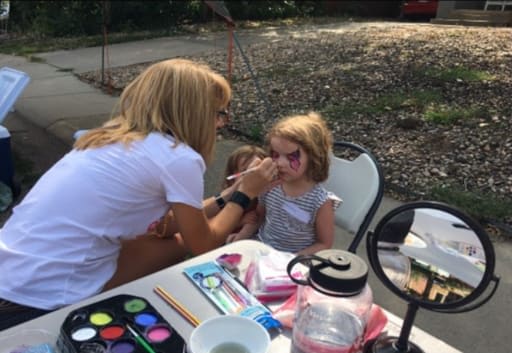 Activities for Adults
While the local neighborhood children enjoy their age-appropriate activities, the adults will not be disappointed by the entertainment planned just for them. The party organizers are sure to order plenty of beer and wine and even provide a separate tent to sip some cool beverages. Plus, keeping the kids occupied will allow the adults some much-needed social time to meet and greet their neighbors.
Additionally, adults and their children are sure to get a kick out of the
dunk tank
at the party every year, which is always a huge hit for people of all ages. If you expect to take a "dunk" on this hot summer day, don't forget a swimsuit and a towel to dry off. After having big plans to bring in live music in 2020, it was an incredible disappointment when party organizers were forced to cancel the festivities for that year. However, with high hopes to bring the party back and bigger than ever in 2021, sponsoring a musical act is sure to add to the fun!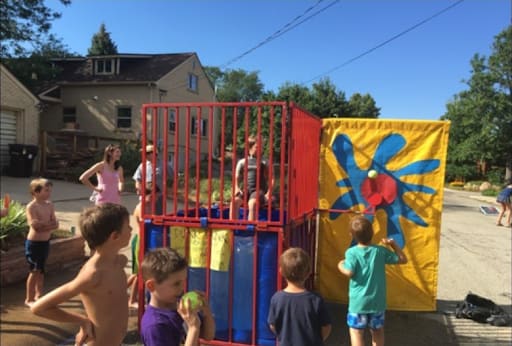 Making the Party a Success
For all of the above reasons, the Lower Chautauqua Summer Block Party has been a massive success in the past several years. Over a hundred neighbors attended the party in 2019. Partygoers are asked to write their name and street name on a name tag, which will help break the ice as you mingle with your neighbors. In the early years, party organizers simply paid for everything and then asked attendees to chip in whatever they thought was appropriate. Thankfully, donations have increased each year as turnout has increased, which has made it easier for the organizers to add to the event each year. After not having a party in 2020 due to the COVID-19 pandemic, the block party will be back and bigger than ever this year to help make up for the lost time.
For all of these reasons and more, the Lower Chautauqua Summer Block Party is an excellent way to close out the summer as you wave goodbye to the glorious summer months. Since the party organizers are looking to make the party bigger and better every year, don't miss all that the party offers in 2021. This year, the party will be held on Sunday, August 29th. As one of the co-leaders of the party committee, Portia Husted is committed to honoring the
Chautauqua
and
North Boulder
neighborhoods to the best of her ability, as she has cultivated a career by selling real estate in the area. Does hearing about this unique neighborhood make you want to consider Lower Chautauqua for your next home? If so, then don't hesitate to
give Portia a call today
.